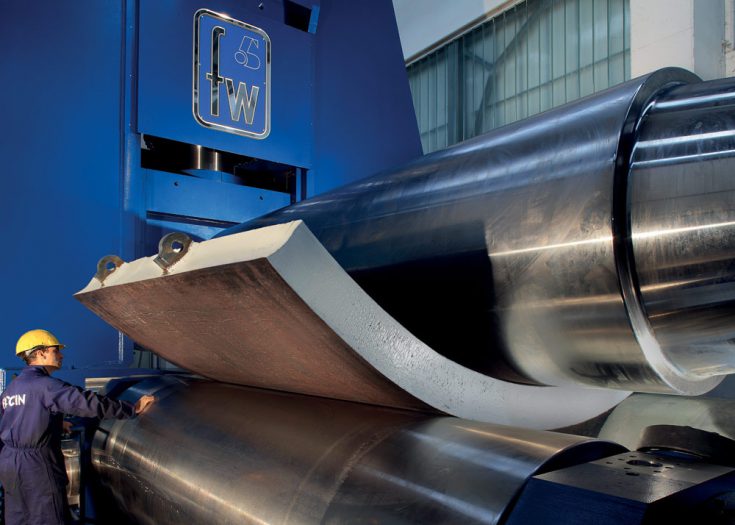 BENDING ROLLS
Specializing in the design, manufacturing and sale of plate bending rolls, Faccin offers the widest range of plate bending machines available on the international market. Faccin bending rolls, suitable for bending plates in a variety of thicknesses, are technologically advanced products capable of bending varyingly thin or thick plates offering maximum precision, high productivity and long term reliability.
Our range of plate bending machines
With the aim to best satisfy every application requirement, Faccin produces and sells various types of plate bending machines. The range includes three models suitable for bending thin plates: HCU, two-roll bending roll with high speed and very high productivity, the ASI three-roll initial pinch bending roll and model 3HEL, electronic three-roll pyramid bending roll with double pinch. For rolling thicker plates, Faccin produces and offers two different models: 4HEL, a four-roll pyramid electronic bending roll, and HAV, a three-roll variable geometry bending roll.
Nowadays, plate bending has become more and more a CNC-supported operation. Faccin was the first manufacturer to use CNC on four roll-plate bending machines specifically designed for bending circular cans for applications like wind tower production and also complex shapes for applications like tank production.
Faccin is continuously developing innovative numerical controls for three-roll production, specifically indicated for the production of thick cones or heavy duty cans.
Automation is a strong point of Faccin products. Faccin is, in fact, the preferred supplier of many world-wide top level companies in the sector of heating and ventilation, for example. Faccin can provide a wide range of automation for plate bending machines that include plate loading systems, feeding tables, supports, ejectors, conveyors and many other custom-made solutions.