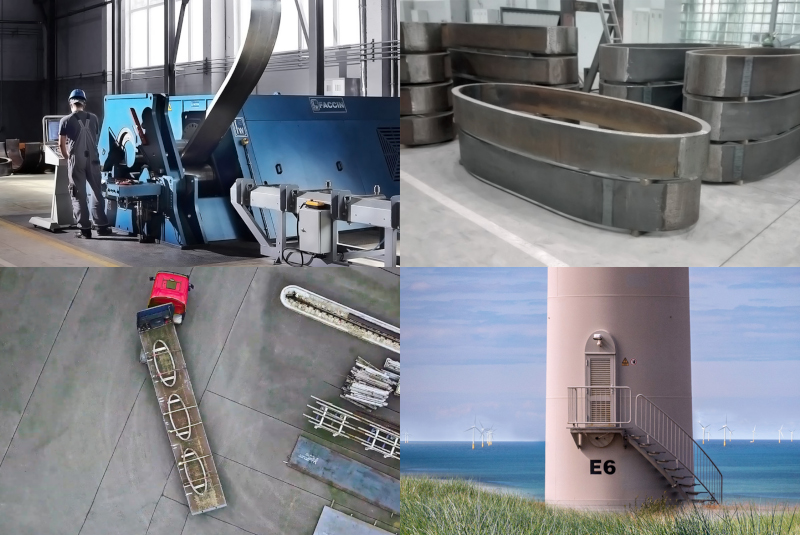 Wind towers is certainly an important business sector for Faccin which consistently delivers heavy-duty automated rolling lines that help increase the manufacturers' productivity.
However, in the fabrication of wind mills, the towers are not the only component that require the bending of heavy-duty steel plates.  In fact, wind towers door frames are also an essential component used in every wind mill that entail experience in plate bending and special technical solutions for its fabrication.
Wind towers door frames are oval rings made for reinforcing the entry hole necessary for an operator or technician to access the towers. The door frames are generally made of steel plates 400-500mm wide with thicknesses that range from 50mm up to even 100mm thick to comply with the design norms.
Being oval shaped with rather small radii, they require for their fabrication, a machine capable of bending these thicknesses down to radii of around 250-400mm.
Faced with this challenge, several customers asked the company to design a special 4 rolls linear machine, half meter long, with extra bending force and torque in order to increase automation and precision for this kind of dedicated production.
In order to satisfy the customers' needs, Faccin engineers have designed the 4HEL/DF, a special 4 rolls linear model for door frames that can roll these complex shapes with minimum cycle time and the shortest pre-bending possible.
The 4HEL/DF is equipped with the latest generation of CNC, the PGS-Ultra, that thanks to its automatic calculation of the bending cycle and the perfect interpolation axis, can help the customers outstrip the competition in the business of wind towers door frames.
Customized cost-effective solutions
Reliability, speed and accuracy must go hand to hand with costs reduction, and the job should be accomplished by a single operator through the use of a user-friendly CNC capable of controlling automatically not only the machine but also the handling system.
Maximizing profits
Our highly technological machines are designed to maximize the productivity, thus the profitability of the wind tower manufacturer. All this is achieved by a precise and fast rolling machine, which helps reduce time in the following steps of the wind tower assembly and welding, an oversized reliable structure.
The high level of supply availability and the lowest possible processing time is our priority.
Installation and training are always provided in order to develop our customers skills. It allows them to operate confidently and independently in their day-to-day business.
The Company
More than 200 years combined experience, forming today's future.
Faccin S.p.A. is a very powerful group which combines the best brands – Faccin, Boldrini and Roundo – in plate rolling, profile bending and dished-heads manufacturing, all united under one roof and offering the widest range of high-quality options available in the metal forming market.
"Faccin is glad to announce that is currently producing yet another 4HEL/DF that will be available for demonstration at the Faccin facilities for one month before the delivery to another important customer."
Should you be interested in this technology, do not hesitate to contact us and book a demonstration.
See the machine in action supplied to our good customer Madesta: