We direct all our experience and technology to provide innovative industry 4.0 products and services, which results in exceptional value that helps our customers to increase productivity and ROI.
To get to know more about these innovative solutions, visit Faccin Group's stands at Euroblech-Hall 11 Stand D07 (25-28 Oct'22) and Fabtech -Booth B8129 (8-10 Nov'22).
Meet the Premium Roundo Angle Roll R6X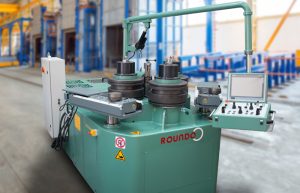 The Roundo R6X, belongs to the new line of premium angle rolls that has been redesigned internally. Built with top brand components the R6X model offers an oil-bathed gear-based transmission, as well as a small footprint and user-friendly control concept, the wCNC4.
Suspended control panel for all functions, including joysticks for roll rotation and lower roller adjustment.
Top of the range Faccin Plate Roll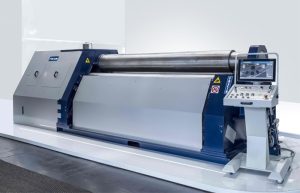 Booth visitors also will view our top of the range 4-roll plate roll solution, considered the most cost-effective investment for high productivity requirements, and equipped with an advanced CNC control.
The machine is predisposed for future installation of central and/or lateral supports.
Don't miss the opportunity to




BOOK A MEETING




with one of our metal forming specialists
The Group
Since the 60's Faccin Group is one of the world's leading manufacturers of metal forming machines, and thanks to its three leading brands – FACCIN, BOLDRINI and ROUNDO – offers a wide selection of plate rolls – angle rolls – dished head lines and integrated solutions to meet the unique needs of a variety of industries and customers around the world.