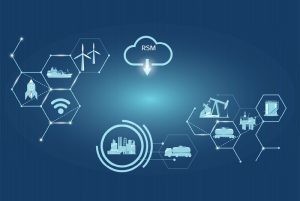 The world is always getting more digitally interconnected, there is a growing expectation regarding the speed of receiving service and assistance. At FACCIN, we understand this necessity and we are all fully prepared for meeting this expectation.
We use state of the art technology not only to exceed customer's production requirements but also to provide aftersales service fit for a modern production plant, our dedicated engineers make sure that FACCIN and all our customers are always on the threshold of technology.
In order to provide a super-fast and professional service to all our customers around the world we have incorporated a special function in FACCIN CNC consoles called RSM (Remote service management) securely connected to the FACCIN Cloud Service.
So How does it work?
Long gone are the days of phone calls and endless emails to solve one small issue.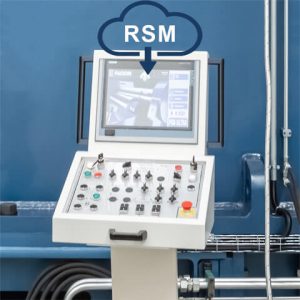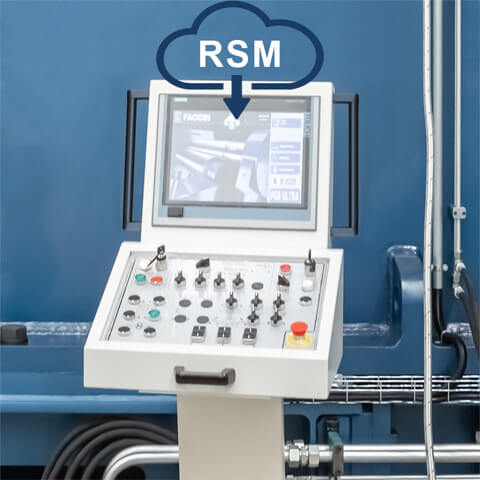 A special router is connected to the PLC of the machine, the status of the machine is converted into bits of data that is sent to the FACCIN database called FACCIN Cloud. Thanks to this router, data can flow in and out of the machine where it can all be monitored by the CNC display. All the service provided thanks to this router is called FACCIN Remote Service Management (RSM), FACCIN RSM monitors the machine while providing systematic and planned maintenance which drastically speeds up troubleshooting and problem solving. The software collects operation history, logs data of component usage, idle time, machine condition and alarms all stored in the FACCIN Cloud.
How is this useful for you?
Most importantly, FACCIN RSM allows the end user to receive immediate assistance directly from our customer service department using live video feed and an easy to use interface so that real-time assistance is provided whenever needed. Upon request, the service department can also see the screen of the console which can help the user run diagnostics or trouble shoot at the spot and our experts can analyze the collected data and provide solutions for improving efficiency.
What's more, if you already have a FACCIN machine, it is possible to retrofit this timesaving feature, all you need is a stable internet connection and a FACCIN CNC console!
Is your information safe?
Security and privacy is very important to us, that is why the connection is made through a VPN connection to FACCIN Cloud is based on Amazon Web Services (AWS), it's backed by a deep set of security and compliance. It's already being used by many well-known companies such as BP p.l.c, General Electric, Siemens, and many more.
How is RSM different from others on the market?
To further enhance the synergy between hardware and software, our dedicated FACCIN engineers have developed a special electronic radius measuring device that can measure the radius of a rolled product and send this data to the CNC where it can be stored and revised when needed.
This device can connect to the CNC console wirelessly or with a simple USB key, it feeds data that can be used to monitor the quality of the series of rolled products. This way, at the end of the month the operator can share the quality of the production with the foreman directly on the console or saved in a computer for presentation.
The Company
More than 200 years combined experience, forming today's future.
Faccin S.p.A. is a very powerful group which combines the best brands – Faccin, Boldrini and Roundo – in plate rolling, profile bending and dished-heads manufacturing, all united under one roof and offering the widest range of high-quality options available in the metal forming market.
Should you be interested in this technology, do not hesitate to contact us and book a demonstration