Capital investments are long-term decisions that allow companies to generate revenue for many years by adding or improving production facilities and boosting operational efficiency. Finding the right manufacturer is key to turning an investment into a significant asset for the business.
The Kingdom of Saudi Arabia, spearheaded by its national oil company Saudi Aramco, has taken the ambitious strategic decision to involve more domestic companies in the development of the country's infrastructure and as consequence, and important flow of investment in machinery and equipment is taking place.
Aramco's goal is to purchase 75% of all their material needs locally by 2021. Currently at 35% means they are going to slightly double their purchases from Saudi businesses in the next two years.
Following suit, a large Saudi organization, approved to be listed in the Saudi Stock Exchange and one of the first companies Saudi Aramco has worked with "in terms of achieving their objectives", has decided to  appoint Faccin to supply them with three 4-rolls plate rolling machines with capacities ranging from 75mm to 125mm plate thickness for their Storage Tank and Process Equipment business sectors.
These three new rolling machines have been added to a medium sized plate rolling machine they acquired some time ago, a doubtless decision due to their positive experience with the company's solutions and the after sales support received during these past recent years.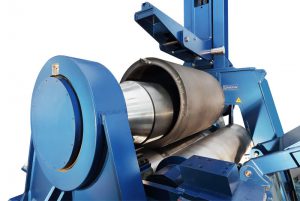 Another demonstration of client loyalty is the installation, by an important shipyard based inside the port of Dammam, the home of the National Oil company Saudi Aramco and part of one of the largest Marine Infrastructure companies in the Kingdom of Saudi Arabia, who controls and manages a number of maritime and construction projects in the MENA region, of a 3-rolls plate rolling machine with variable geometry configuration model HAV, an unbeatable combination of rolling power and pre-bending precision.
Furthermore, a Dubai state-owned company, primarily focused on the upstream oil and gas industry with top level customers such as Schlumberger, Halliburton, Baker Hughes, Weatherford, after having experienced the company's quality and reliability at theirs plants in Middle East and Far East, has awarded FACCIN with another order for a new plate rolling machine for its new manufacturing facility in Saudi Arabia. The investment was driven by the need to enhance the company's IKTVA (in-Kingdom Total Value Added) and thus ordering a 4-rolls plate rolling machine, a solution that combines power, reliability and precision in an exclusive package that makes it the state of the art in modern plate rolls.
When it was time to expand their factory, due to the continuous growth in customer's demand, a UAE based company specialized in oil and gas, petrochemical, power and water, marine and mining industries has selected the 4-rolls plate rolling machine as the right answer to its needs.  
More importantly, the success obtained in many challenging projects in the Middle East, have led the company to increase the level of trust amongst its clients, showing the company's long-term commitment and converting Faccin in the number one choice for metal forming machinery.
Hundreds of plate rolling machines successfully installed in the region from medium thick plates to over 300mm plate thickness, demonstrate a prompt service support available not only for installation & commissioning but also for training and preventive maintenance makes the company's plate rolling machines the solution suitable to effectively cover the needs of each manufacturer.
The Company
More than 200 years combined experience, forming today's future.
Faccin S.p.A. is a very powerful group which combines the best brands – Faccin, Boldrini and Roundo – in plate rolling, profile bending and dished-heads manufacturing, all united under one roof and offering the widest range of high-quality options available in the metal forming market.