Case Study: Montex Shipyard partners with Faccin Group to bring in-house the bending of its profiles

Montex Shipyard, based in Gdansk -Poland on the Baltic sea, is a relatively young and dynamic shipbuilding company that provides tailored solutions to the main shipowners worldwide from large vessels, passenger ferries, barges, fishing and offshore vessels as well as steel structures, ranging from fully built ships to partially finished hull blocks.
The growing demand for vessels in a very competitive market requires having a large production capacity and expertise for on-time delivery. To take advantage of these new but challenging opportunities, Montex started an expansion process which foresaw planned investments in new, modern, and highly productive technologies.
One of the main obstacles for Montex to achieve its strategic objectives was the subcontracting of rolled parts like bulbs (known as Holland profiles or HP ship frames) and having to rely on their suppliers' delivery times, prices and above all quality.
Montex decided then to equip itself and to start checking for different alternatives in the market and found in Faccin Group's range of products the best compromise between quality and price. "There are only few manufacturers of such dedicated machines in the world, so we were looking for a long-term business partner. We saw in Faccin Group a strong company that could become our consultant for other type of investments too", said Mr. Rozanski.
"The investment process in this frame bender machine series FB and its implementation in our manufacturing workflow was followed personally by the three company shareholders, Mr. Piotr Debowski, Mr. Sebastian Wasiolek and myself", continued Mr. Grzegorz Rozanski.
Montex main priority was to define the right machine size and to check that the references given met all their expectations. After a few months, Faccin's frame bender was then their preferred choice and it has been successfully installed since November 2019, being now in full production.
Faccin's frame bender series FB is a four-action bending and straightening press. The FB are unique machines on the market, featuring Faccin's authentic design that guarantee much higher productivity compared to the simple old-style horizontal presses. It gives the possibility to bend single or in-pair bulbs into "S-shapes" without removing the profile from the machine by means of two side arms and a central clamping system that holds the profile. In both directions (pushing and pulling) FB machines guarantee the same bending force for a more accurate forming process.
"These features have been key points for us to decide for Faccin compared to other solutions available on the market. The FB machine is very flexible, since besides bulbs it can also bend other profiles such as L and T profiles that are commonly used for ships details" confirmed Mr. Rozanski
The machine is very easy to use because of its open C-frame structure, user-friendly SIEMENS operator's interface and electronic device to measure the radius. In addition, the innovative Faccin Remote Service Management is an added value that give fully assurance in terms of after sale service.
"Furthermore, thanks to the investment made in this machine and its flexible configuration, we have the ability to produce a variety of products in the quantities that customers demand while maintaining high performance. It has become strategically important for enhancing our competitive position in the area and winning customer orders, which has accelerated the ROI on this unit" added Mr. Rozanski.
"FACCIN's approach has been always fair, courteous and above all, professional in all aspects. We consider FACCIN Group as one of our most valued suppliers and we feel confident in recommending Faccin and its range of products", confirmed Mr. Rozanski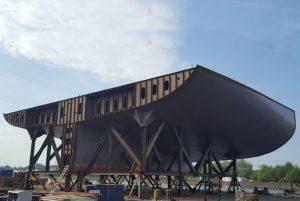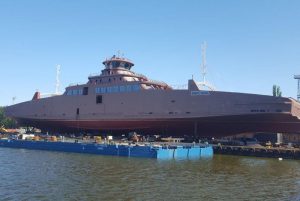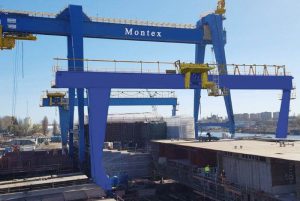 This demonstrates once again the capabilities and potential of Faccin's full in-house manufacturing process, from design to delivery of the right solutions to today's production challenges around the world.
If you want to know more of how the Faccin Group can help you with your rolling, bending and metal forming challenges, do not hesitate to contact us